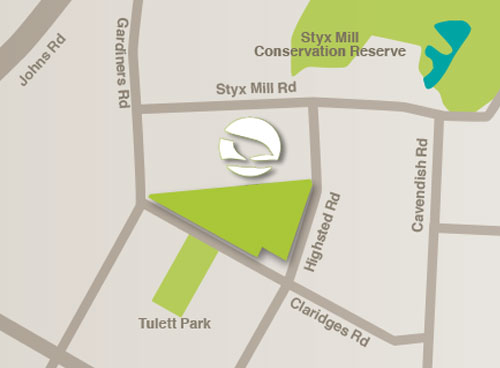 Sections
For Sale
Highsted Sections For Sale
Highsted Residential is fast becoming the desired place to live, with a number of residents enjoying the wonderful walkways and convenience of their new Highsted location.
Stage one and two sold out and only a small number of the Premium reserve sections are left in Stage Three.
Due to a reconfigured stage four, we are excited with the recent release of 36 more sections. Titles are expected 2019.
You will need to be quick for stage five, with only five left.  These medium density sites are competitively priced and perfect for the easy care lifestyle.
Highsted offers a FREE GeoTech report for each section so you can be assured of what information is required before building your house, no surprises.
Stage Two, Three & Five have titles available now.  Stage six, with 12 medium density sites is the final stage to be released, so don't delay – call us today for more details about how you can invest in the location of a lifetime.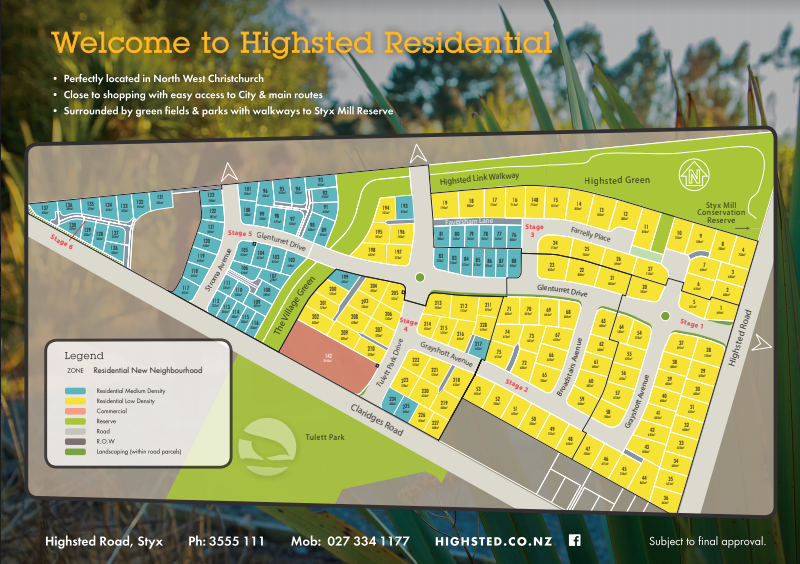 Stage 1 - SOLD OUT
| Lot | Size | Price/Status |
| --- | --- | --- |
| 1 | 649m² | SOLD |
| 5 | 610m² | SOLD |
| 20 | 782m² | SOLD |
| 28 | 750m² | SOLD |
| 29 | 650m² | SOLD |
| 30 | 600m² | SOLD |
| 31 | 650m² | SOLD |
| 32 | 600m² | SOLD |
| 33 | 650m² | SOLD |
| 34 | 600m² | SOLD |
| 35 | 625m² | SOLD |
| 36 | 662m² | SOLD |
| 37 | 691m² | SOLD |
| 38 | 600m² | SOLD |
| 39 | 600m² | SOLD |
| 40 | 600m² | SOLD |
| 41 | 600m² | SOLD |
| 42 | 642m² | SOLD |
| 43 | 800m² + ROW | SOLD |
| 44 | 868m² + ROW | SOLD |
| 45 | 724m² + ROW | SOLD |
| 46 | 675m² | SOLD |
| 47 | 700m² | SOLD |
| 54 | 570m² | SOLD |
| 55 | 670m² | SOLD |
| 56 | 670m² | SOLD |
| 57 | 670m² | SOLD |
| 58 | 700m² | SOLD |
| 64 | 539m² | SOLD |
Stage 2 - SOLD OUT
| Lot | Size | Price/Status |
| --- | --- | --- |
| 21 | 800m² | SOLD |
| 22 | 800m² | SOLD |
| 23 | 822m² | SOLD |
| 48 | 650m² | SOLD |
| 49 | 725m² | SOLD |
| 50 | 700m² | SOLD |
| 51 | 650m² | SOLD |
| 52 | 700m² | SOLD |
| 53 | 693m² | SOLD |
| 59 | 648m² | SOLD |
| 60 | 687m² | SOLD |
| 61 | 600m² | SOLD |
| 62 | 600m² | SOLD |
| 63 | 600m² | SOLD |
| 65 | 700m² | SOLD |
| 66 | 650m² | SOLD |
| 67 | 650m² | SOLD |
| 68 | 604m² | SOLD |
| 69 | 604m² | SOLD |
| 70 | 604m² | SOLD |
| 71 | 605m² | SOLD |
| 72 | 620m² | SOLD |
| 73 | 641m² + ROW | SOLD |
| 74 | 613m²+ ROW | SOLD |
| 75 | 613m² | SOLD |
Stage 3 - Titles available
| Lot | Size | Price/Status |
| --- | --- | --- |
| 2 | 600m² | SOLD |
| 3 | 600m² | SOLD |
| 4 | 720m² | SOLD |
| 6 | 645m² | SOLD |
| 7 | 646m² | SOLD |
| 8 | 700m² | $545,000.00 |
| 9 | 748m² | $545,000.00 |
| 10 | 725m² | $590,000.00 |
| 11 | 850m² | SOLD |
| 12 | 800m² | SOLD |
| 13 | 850m² | SOLD |
| 14 | 850m² | SOLD |
| 15 | 817m² | SOLD |
| 148 | 714m² | $540,000.00 |
| 16 | 714m² | $540,000.00 |
| 17 | 714m² | $540,000.00 |
| 18 | 800m² | $550,000.00 |
| 19 | 793m² | $575,000.00 |
| 24 | 713m² | SOLD |
| 25 | 702m² | SOLD |
| 26 | 694m² | SOLD |
| 27 | 710m² | SOLD |
| 76 | 400m² |  SOLD |
| 77 | 365m² | SOLD |
| 78 | 365m² | SOLD |
| 79 | 365m² | SOLD |
| 80 | 363m² |  SOLD |
| 81 | 388m² | SOLD |
Stage 4 - Titles expected 2019
| Lot | Size | Price/Status |
| --- | --- | --- |
| 193 | 450 sqm | $435,000.00 |
| 194 | 501 sqm | $440,000.00 |
| 195 | 501 sqm | $425,000.00 |
| 196 | 543 sqm | $375,000.00 |
| 197 | 573 sqm | $370,000.00 |
| 198 | 627 sqm | $440,000.00 |
| 199 | 442 sqm | $415,000.00 |
| 200 | 510 sqm | $425,000.00 |
| 201 | 574 sqm | $430,000.00 |
| 202 | 643 sqm | $440,000.00 |
| 203 | 530 sqm | $350,000.00 |
| 204 | 493 sqm | $345,000.00 |
| 205 | 557 sqm | $340,000.00 |
| 206 | 522 sqm | $360,000.00 |
| 207 | 572 sqm | $365,000.00/Hold |
| 208 | 618 sqm | $365,000.00/Hold |
| 209 | 601 sqm | $360,000.00 |
| 210 | 553 sqm | $365,000.00 |
| 211 | 475 sqm | $355,000.00 |
| 212 | 717 sqm | $420,000.00 |
| 213 | 592 sqm | $365,000.00 |
| 214 | 455 sqm | $345,000.00 |
| 215 | 537 sqm | $365,000.00 |
| 216 | 641 sqm | $385,000.00/Hold |
| 217 | 420 sqm | $350,000.00 |
| 218 | 622 sqm | SOLD |
| 219 | 599 sqm | $375,000.00 |
| 220 | 624 sqm | $375,000.00 |
| 221 | 570 sqm | $375,000.00 |
| 222 | 513 sqm | $360,000.00 |
| 223 | 578 sqm | $370,000.00 |
| 224 | 400 sqm | $330,000.00 |
| 225 | 440 sqm | $340,000.00 |
| 226 | 456 sqm | $345,000.00 |
| 227 | 468 sqm | $345,000.00 |
| 228 | 478 sqm | $355,000.00 |
Stage 5 - Titles available
| Lot | Size | Price/Status |
| --- | --- | --- |
| 82 | 378m² | House & land |
| 83 | 356m² | House & land |
| 84 | 372m² | House & land |
| 85 | 376m² | SOLD |
| 86 | 376m² | House & land |
| 87 | 377m² | SOLD |
| 88 | 450m² | SOLD |
| 89 | 400m2 | $283,000.00/ Hold |
| 90 | 400m² | SOLD |
| 91 | 410m² | $283,000.00 |
| 92 | 410m² | SOLD |
| 93 | 445m² | SOLD |
| 94 | 450m² | SOLD |
| 95 | 450m² | SOLD |
| 96 | 446m² | SOLD |
| 97 | 450m² | SOLD |
| 98 | 375m² | SOLD |
| 99 | 350m² | SOLD |
| 100 | 400m² | SOLD |
| 101 | 396m² | Under contract |
| 102 | 418m² | $293,000.00/ Hold |
| 103 | 425m² | SOLD |
| 104 | 425m² | SOLD |
| 105 | 450m² | SOLD |
| 106 | 416m² | SOLD |
| 107 | 418m² | $268,000.00 |
| 108 | 387m² | $273,000.00 |
| 109 | 409m² | SOLD |
| 110 | 300m² | House & land |
| 111 | 301m² | House & land |
| 112 | 327m² | House & land |
| 113 | 300m² | House & land |
| 114 | 300m² | House & land |
| 115 | 300m² | House & land |
| 116 | 300m² | House & land |
| 117 | 447m² | SOLD |
| 118 | 445m² | SOLD |
| 119 | 449m² | SOLD |
| 120 | 450m² | SOLD |
| 121 | 444m² | SOLD |
| 122 | 387m² | SOLD |
| 123 | 398m² | SOLD |
Stage 6 - Titles expected 2019
| Lot | Size | Price/Status |
| --- | --- | --- |
| 126 | 334m² | $274,000.00 |
| 127 | 335m² | $274,000.00 |
| 128 | 362m² | $277,000.00 |
| 129 | 300m² | $267,000.00 |
| 130 | 339m² | $279,000.00 |
| 131 | 459m² | $299,000.00 / Hold |
| 132 | 448m² | $297,000.00 / Hold |
| 133 | 455m² | $294,000.00 |
| 134 | 445m² | $294,000.00 |
| 135 | 378m² | $289,000.00 |
| 136 | 360m² | $284,000.00 |
| 137 | 503m² | $294,000.00 |