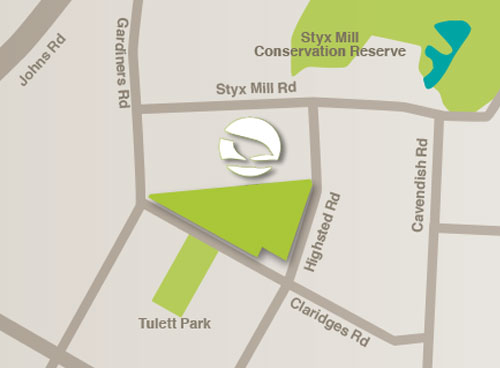 Sections
For Sale
Highsted Sections For Sale
Highsted Residential has a number of residents moved in and enjoying their new Highsted location.
A limited number of sections remain in Stages One & Two, with only the Premium Reserve/Waterfront sections left in Stage Three.  Sections range in size from 540sqm to 850sqm.
The release of Stage Five, is the first of the medium density sections from 300sqm to 450sqm.  These offer an easy care alternative for those with a busy lifestyle or looking to downsize.
Highsted offers a FREE GeoTech report for each section so you can be assured of what information is required before building your house, no surprises.
Stage One, Two, Three & Five all have titles available now, so don't delay – call us today for more details about how you can invest in the location of a lifetime.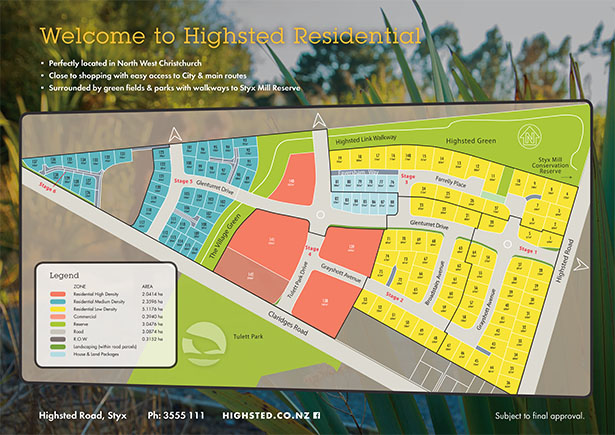 Stage 1 - Titles available
| Lot | Size | Price/Status |
| --- | --- | --- |
| 1 | 649m² | SOLD |
| 5 | 610m² | SOLD |
| 20 | 782m² | SOLD |
| 28 | 750m² | SOLD |
| 29 | 650m² | SOLD |
| 30 | 600m² | SOLD |
| 31 | 650m² | SOLD  |
| 32 | 600m² | SOLD  |
| 33 | 650m² | SOLD |
| 34 | 600m² | SOLD |
| 35 | 625m² | SOLD |
| 36 | 662m² | Under contract |
| 37 | 691m² | SOLD |
| 38 | 600m² | SOLD |
| 39 | 600m² | SOLD |
| 40 | 600m² | SOLD |
| 41 | 600m² | SOLD |
| 42 | 642m² | SOLD |
| 43 | 800m² + ROW | SOLD |
| 44 | 868m² + ROW | SOLD |
| 45 | 724m² + ROW | SOLD |
| 46 | 675m² | SOLD |
| 47 | 700m² | SOLD |
| 54 | 570m² | SOLD |
| 55 | 670m² | SOLD |
| 56 | 670m² | SOLD |
| 57 | 670m² | SOLD |
| 58 | 700m² | SOLD |
| 64 | 539m² | SOLD |
Stage 2 - Titles available
Lot
Size
Price/Status
21
800m²

SOLD

22
800m²

SOLD

23
822m²

SOLD

48
650m²

SOLD

49
725m²

SOLD

50
700m²

SOLD

51
650m²

SOLD

52
700m²

SOLD

53
693m²

SOLD

59
648m²

SOLD

60
687m²

SOLD

61
600m²

SOLD

62
600m²

SOLD

63
600m²

SOLD

65
700m²
SOLD

66
650m²

SOLD

67
650m²

SOLD

68
604m²

SOLD

69
604m²

SOLD

70
604m²

SOLD

71
605m²

SOLD

72
620m²

SOLD

73
641m² + ROW

SOLD

74
613m²+ ROW
$355,000.00/

Hold

75
613m²

SOLD
Stage 3 - Titles available
Lot
Size
Price/Status
2
600m²

SOLD

3
600m²

SOLD

4
720m²

SOLD

6
645m²

SOLD

7
646m²

SOLD

8
700m²
$545,000.00
9
748m²
$545,000.00
10
725m²
$590,000.00
11
850m²

SOLD

12
800m²

SOLD

13
850m²

SOLD

14
850m²

SOLD

15
817m²

SOLD

148
714m²
$540,000.00/

Hold

16
714m²
$540,000.00
17
714m²
$540,000.00
18
800m²
$550,000.00
19
793m²
$575,000.00
24
713m²

SOLD

25
702m²

SOLD

26
694m²

SOLD

27
710m²

SOLD

76
400m²
 

SOLD

77
365m²

SOLD

78
365m²

SOLD

79
365m²

SOLD

80
363m²
 

SOLD

81
388m²

SOLD
Stage 5 - Titles available
Lot
Size
Price/Status
82
378m²
$825,000.00 House & land
83
356m²
$799,000.00 House & land
84
372m²
$799,000.00 House & land
85
376m²
$749,000.00 House & land (COMPLETED)
86
376m²
$799,000.00 House & land
87
377m²
$799,000.00 House & land
88
450m²
$825,000.00 House & land
89
400m2
$283,000.00
90
400m²

SOLD

91
410m²
$283,000.00
92
410m²

SOLD

93
445m²
$283,000.00
94
450m²

SOLD

95
450m²

SOLD

96
446m²

SOLD

97
450m²

SOLD

98
375m²

SOLD

99
350m²

SOLD

100
400m²
$280,000.00
101
396m²
$280,000.00
102
418m²
$293,000.00
103
425m²

SOLD

104
425m²

SOLD

105
450m²

SOLD

106
416m²

SOLD

107
418m²
$268,000.00/Hold
108
387m²
$273,000.00
109
409m²
$273,000.00/

Hold

110
300m²
$265,000.00/

Hold

111
301m²
$265,000.00

/

Hold
112
327m²

SOLD

113
300m²

SOLD

114
300m²

SOLD

115
300m²

SOLD

116
300m²

SOLD

117
447m²

SOLD

118
445m²

SOLD

119
449m²

SOLD

120
450m²

SOLD

121
444m²

SOLD

122
387m²

SOLD

123
398m²

SOLD