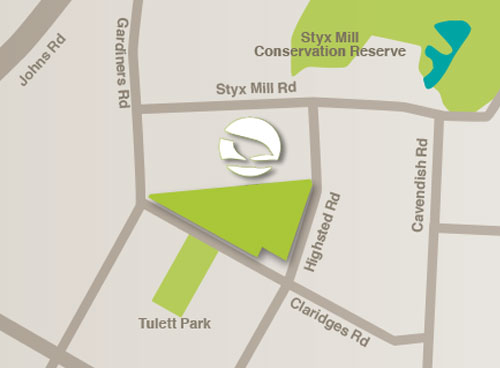 Sections
For Sale
The Location of a Lifetime
It has been wisely observed that there are only three things to look for when choosing a property; location, location and location. Highsted Residential has taken that truth to a new level.
Highsted Residential is a development of superior style and character, in a location to beat all locations. In fact, it's a location of a lifetime. It's perfectly placed in the Northwest corner of Christchurch with easy access to the central city, the Northern Motorway and the Johns Road ring road to the airport and the south. And Highsted is only minutes away from shopping at Northwood, Bishopdale Mall and Northlands Mall. These are just a few of the reasons why Highsted Residential is one of the most outstanding locations in Christchurch.
With many options available from medium density to larger sections, there are possibilities for everyone to share in this amazing development that truly is the location of a lifetime.
The Neighbourhood
Surrounded by green fields, parks, walkways, cycleways and natural reserves, Highsted Residential feels like you're in the middle of the country, rather than being in the closest residential development to the centre of Christchurch currently available. With Highsted Stream meandering under stone bridges, through areas lined with native plantings, the tranquillity and peacefulness defies its proximity to the city. As the stages progress, there will also be convenient hospitality and commercial facilities attached to the development.
1 minute to Tulett Park
5 minutes to Regents Park Reserve
8 minutes to Styx Mill Reserve
13 minutes to Cotswold Primary
13 minutes to Casebrook Intermediate
5 minutes to Northern Motorway
7 minutes to Northlands Mall
8 minutes to Airport
20 minutes to Town
Room to Breathe
Integral to the Highsted Residential Development will be paths and walkways from surrounding parks and reserves throughout the development linking up with other local footpaths, cycleways and green areas. And there will be a rest stop at the Highsted Residential commercial area with a planned café, childcare and retail for a break from your wanderings.
One thing is certain, there's more than enough space for you to take your time to smell the roses, and the coffee!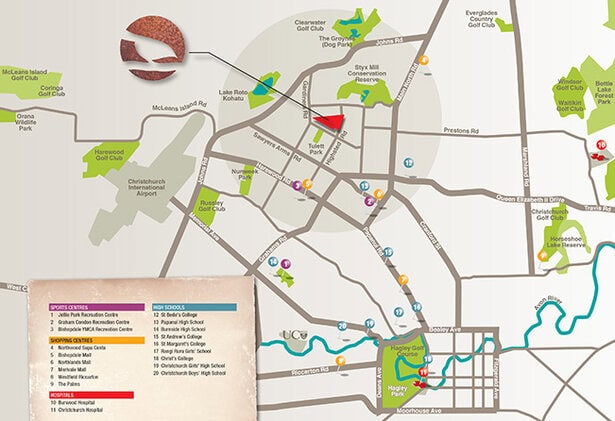 Park to Park
The Highsted Residential development was designed with space in mind – space for people. With byways through reserve land that will get you to Styx Mill Reserve in under ten minutes linking with Tulett Park via the pleasant aspect of the village green and the Highsted Link Walkway, the tranquillity will be profound. Especially when it comes to mind how close Highsted residential is to the bustle of the city.
It's also an unruffled environment for running and cycling without the hassle of traffic and distraction, unless of course you get the urge to drop by the planned café, childcare and retail area on your way.